BMI (Body Mass Index)
Your healthy weight range is based on a measurement known as the Body Mass Index (BMI). To calculate your BMI, all you need to know is your height and weight. Complete the fields below and click calculate to find out what your BMI score is.
BMI Calculator
Weight (in Kilograms)
2.2 lbs = 1 kg
Height (in Centimeters)
1 inch = 2.5 cm

BMI Score
What your BMI Score Means
Body Mass Index (kg/m²)
Weight Classification
Less than 20
Underweight
21-25
Desirable or healthy range
26-30
Overweight
31-35
Obese (Class I)
36-40
Obese (Class II)
Over 40
Morbidly or severely obese (Class III)
Source: World Health Organisation
The following graph gives you a guide in inches/pounds: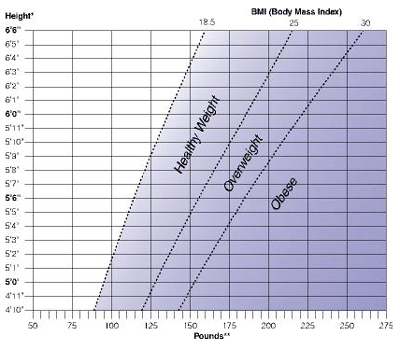 Top Tip
"The BMI formula applies to 'normal' healthy adults. Make allowances for gender and slight or stocky build. It is not appropriate for pregnant women, children or in some medical conditions."